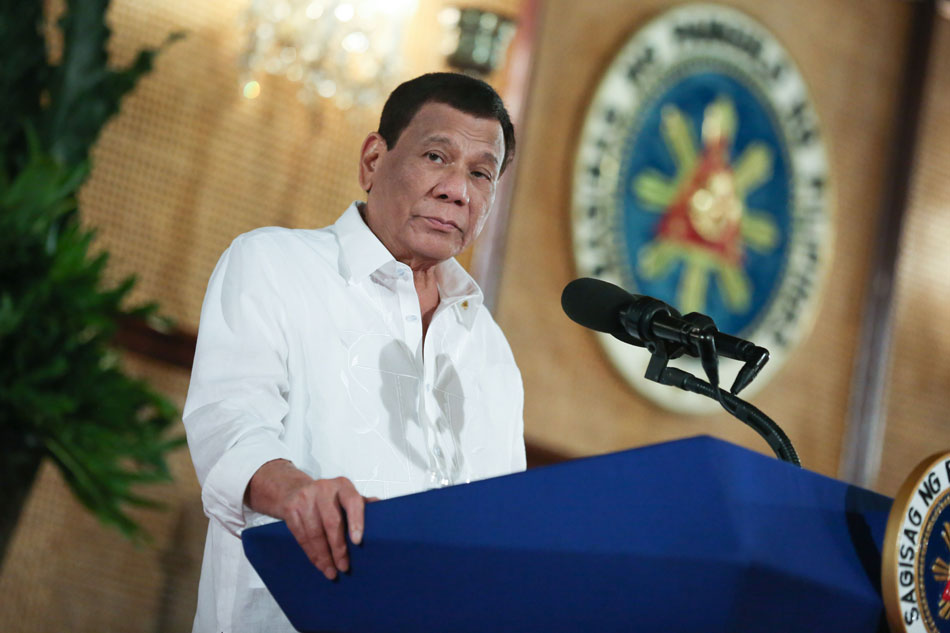 President Rodrigo Duterte said Monday he may use his upcoming State of the Nation Address (SONA) to defend the legality of his verbal agreement with Chinese counterpart Xi Jinping that allows China to fish in the country's exclusive economic zone.
Duterte will make his fourth report to the nation before a joint session of Congress on July 22.
"'Yung sabi nila na unconstitutional, well, you wait. Maybe sa SONA, I will educate people na 'yung ginawa ko, sabi ko you can fish. Tama talaga ako. At hindi maging unconstitutional 'yan," he told reporters in Malacañang.
"By any stretch of imagination, hindi unconstitutional 'yung ginawa ko. As a matter of fact, it was in keeping with the law."
Critics alleged that Duterte may have committed an impeachable offense over the fishing deal as they pointed out that only the Philippines has the right to exploit resources in the country's waters including the 200-nautical mile EEZ.
Supreme Court Senior Associate Justice Antonio Carpio, a critic of Duterte's policy towards China, said last week that the verbal agreement was a violation of the 1987 Constitution and "so lopsided it should be rejected by the Philippine government."
"Any such verbal agreement, if confirmed by the Philippine government, will bind the Philippines to allow the Chinese to fish in Reed Bank for as long as China allows Filipinos to fish in Scarborough Shoal," Carpio said.
Scarborough Shoal is a rocky outcrop teeming with maritime resources that is effectively under China's control but well within Manila's EEZ.
Malacañang earlier belittled belittled threats to impeach Duterte over his alleged failure to protect the country's interests in the West Philippine Sea.
Duterte's spokesperson Salvador Panelo said last Friday that the President was loyal to his sworn oath under the Constitution of serving and protecting the Filipino people.
"There can be no culpable violation of the Constitution, or any impeachable offense for that matter, when the President is precisely enforcing that very same instrument while honoring our country's constitutional obligation of observing amity with our neighboring states in conformity with our treaties and international conventions, as well as customary international law," Panelo said.
Last month's ramming of a Filipino fishing boat by a Chinese vessel off Recto Bank in the West Philippine Sea triggered discussion on Philippine territory and its rights over the natural resources within its EEZ.
Reports said the findings of a joint inquiry by the Philippine Coast Guard and the Maritime Industry Authority showed the Recto Bank incident was a "serious marine casualty."
Duterte conceded that what happened in Recto Bank was a "serious" one but he reiterated it was a "maritime incident."
"When you talk about marine transportation and all, it is a maritime incident. And that is very small because nobody died," he said.
Asked if the Philippines will press China to hold its fishermen liable, Duterte said: "We have our recommendations, we have our report. Then we will wait for China to make its report. Then we can compare notes."
"And then kung sino 'yung within a better position to assert justice, gawain nila 'yan. Kung sila, magbayad sila," he added.
The Philippines had filed a diplomatic protest and said that proper sanctions must be imposed against the Chinese crew who allegedly abandoned the 22 Filipino fishermen until a Vietnamese fishing vessel rescued them.