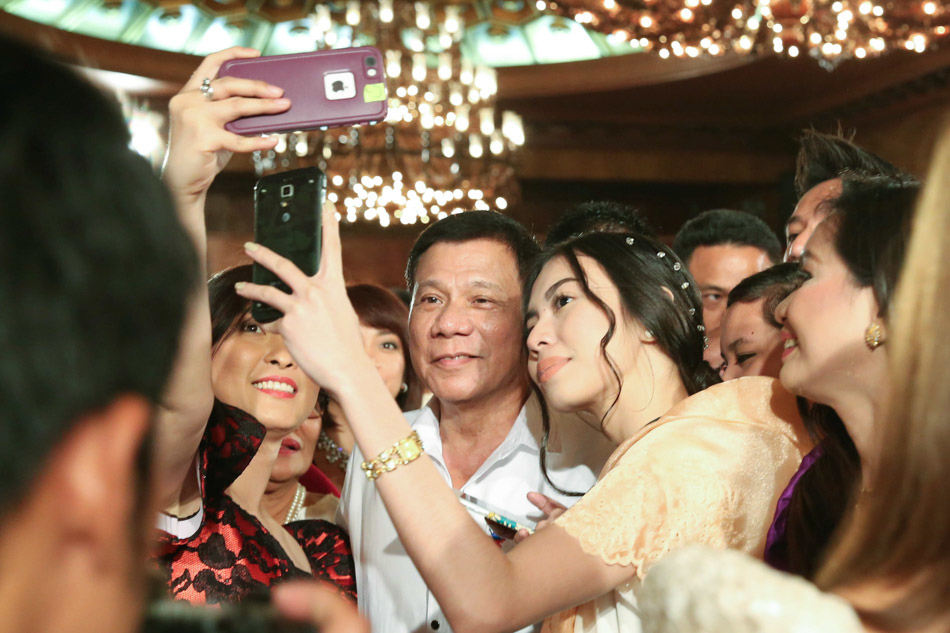 Critics may have called him a misogynist for some of his jokes, but President Rodrigo Duterte will be the "first" to obey the "Bawal Bastos" law, a measure he recently signed which imposes stiffer penalties on a range of acts, from catcalling and sexist slurs to stalking and cyberstalking.
Duterte recognized the need to prevent gender-based sexual harassment when he signed Republic Act 11313 or the Safe Streets and Public Spaces Act, his spokesperson Salvador Panelo said Tuesday.
"Since the President signed that law, it means that he recognizes the need [for] that law. And since he is the chief enforcer of all laws of the Philippines, he will be the first one to obey the law," Panelo told reporters during a Palace press briefing.
Duterte, who is fond of flirting with women in public, has repeatedly courted criticism for his rape jokes, kissing women during public events, and off-the-cuff remarks.
As a presidential candidate, he was heavily criticized for saying he should have had first dibs on an Australian woman raped in Davao City in 1989.
In December last year, Duterte even recalled confessing to a Catholic priest about touching his maid while she was asleep. He also drew the ire of critics for threatening to shoot female rebels in the genitals, and for saying that Davao City has the highest number of rape cases in the country because it has many beautiful women.
'I will hold on to your panty': Duterte jests as he flirts with Bohol mayor
In May this year, Duterte cracked his latest rape joke while pardoning cadets at the Philippine Military Academy during their graduating rites.
Duterte cracks fresh rape jokes at PMA graduation
Duterte 'never bastos,' women should know
Panelo, meanwhile, defended the President's behavior, saying he was never rude to women and only cracks joke to make people laugh.
"Unang-una kasi (first of all), you've assumed that the President is bastos (inappropriate), naging bastos (became inappropriate). He never was bastos (inappropriate). When he cracks jokes, it was intended to make people laugh, never to offend. If you will just listen to the jokes of the President talagang matatawa ka eh, matatawa ka (you will really laugh). Audience … 'di ba, they give a hearty laughter. Hindi naman bastos (He wasn't being inappropriate)," he said.
"Iba kasi iyong pambabastos (Being inappropriate is something else). You women should know that. Iba ang dating ng bastos at saka iyong nagpapatawa lang (Being inappropriate is different from just being funny)," he said.
Panelo also claimed that the President "reacts negatively" to people who offend women, saying Duterte is respectful.
"You will be surprised ha, this President reacts violently, or negatively rather, to people who offend women. Maano ito sa babae, mahal na mahal niya ang nanay niya; magalang sa mga girls. Magalang siya. Nag-po-po nga iyan sa lahat ng ladies eh, puro 'Ma'am,' 'Yes, ma'am,' 'No, ma'am'," he said.
(He really loved his mother, he is respectful to girls. He says "po" to all the ladies. He would say 'Ma'am,' 'Yes, ma'am,' 'No, ma'am.')
Under the new law, acts that may be punished include cursing, wolf-whistling, catcalling, leering, intrusive gazing, and taunting.
Asked whether the President would no longer crack jokes, Panelo responded: "Let's see. He's a man of surprises.