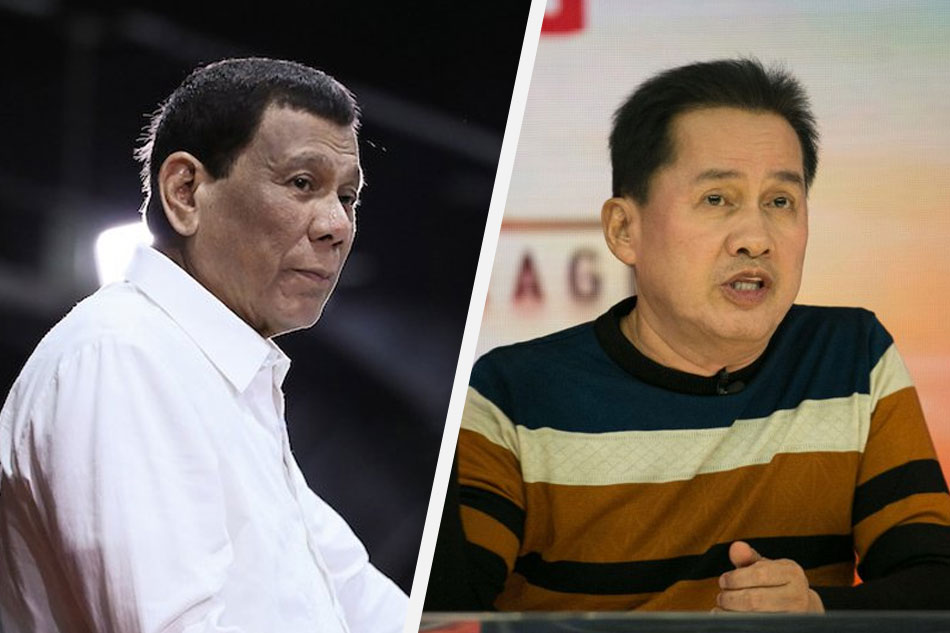 President Rodrigo Duterte on Friday said he believed his friend Pastor Apollo Quiboloy when the religious leader said he stopped one of the major earthquakes that hit Mindanao in October.
Duterte said he wished that he could have the same power to stop graft just by telling corrupt individuals to do so.
"I believe in Pastor Quiboloy when he said that 'stop'. Eh, kung nag-stop, eh 'di what's the trouble? Stop it! Eh kung nagkataon talagang nag-stop," Duterte said.
"If I can only have that power doon sa mga kurakot na stop kasi alam mo dito ang Pilipino hindi mo talaga madala sa pakiusap," he added.
Quiboloy after the spate of earthquakes that hit parts of Mindanao in October claimed that the public ought to thank him for "stopping" one of the earthquakes which hit late October.
"Ako'y umiinom lang ng kape eh, lumilindol. Sinabi ko, 'lindol huminto ka!' Huminto," Quiboloy, the leader of the religious sect called the Kingdom of Jesus Christ, said in a televised program.
Claiming that he had witnesses to prove his claim, Quiboloy, the self-declared "Appointed Son of God," added, "Pasalamat kayo sa 'kin, pasalamat kayo sa 'kin. Kasi kung 'di ko pina-stop 'yun, marami kayong magigiba diyan. Mamamatay kayo. Kaya pasalamat kayo ako ang nagpa-stop ng lindol."
Quiboloy would not have even mentioned his role in stopping the quake had it not been for a submitted question which also criticized him.
And it was because of these "bashers" that Mindanao was struck by earthquakes and storms.
"Tingnan mo yung mga lugar ng bashing, kawawa naman. Naawa ako sa kanila, 'di ba? Hindi ko naman, ayoko namang mapahamak ang tao. Pero ang judgment nanggagaling sa Diyos," he said.
A magnitude 6.6 earthquake struck Mindanao on October 29 leaving at least eight people dead.
The quake's epicenter was in Tulunan, Cotabato, which was once again struck by a magnitude 6.5 earthquake two days later.
The latest update showed 16 people have died because of the two earthquakes.