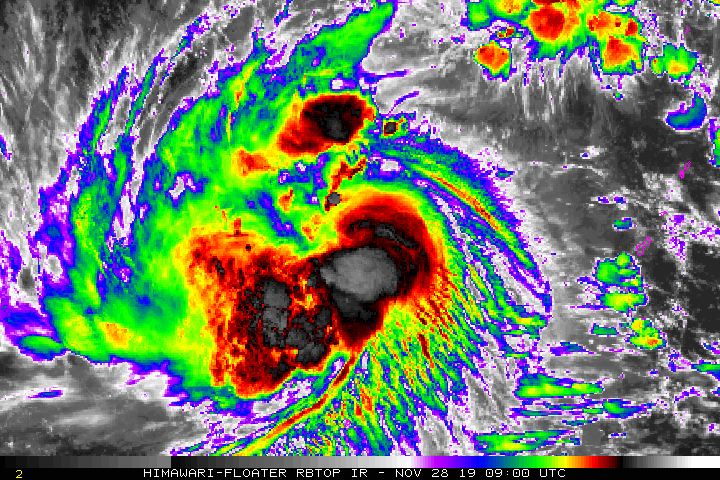 The country's disaster managament agency on Thursday advised the public to prepare for Typhoon Kammuri (local name Tisoy) as the tropical cyclone may intensify into a super typhoon while barreling towards the east of the Philippines.
Typhoon Kammuri, which is expected to enter the Philippine area of responsibility (PAR) by Sunday, is projected to strengthen further as it approaches, and may bring continuous heavy rains over Luzon and eastern Visayas which could cause flooding and landslides in coming days.
In an advisory, the National Disaster Risk Reduction and Management Council (NDRRMC) said Kammuri, which will be named Tisoy once it enters PAR, will bring "heavy damage to high-risk structures, unroof houses made of medium-strength materials, damage shrubbery, break or uproot large trees, and topple electric posts."
Storm surge is also possible in coastal areas, NDRRMC said.
The NDRRMC noted that Kammuri is following a similar track to previous typhoons Reming (2006) and Glenda (2014). Reming resulted in at least 734 deaths, while Glenda caused 106 deaths and P38.6 billion worth of damage.
"PAGASA said that there is the possibility of 'Kammuri' intensifying into a Super Typhoon," it added.
State weather bureau PAGASA earlier said Kammuri was last spotted approximately 1,425 kilometers east of Visayas while packing maximum sustained winds of up to 130 kilometers per hour (kph) near the center and 160 kph gusts.
It was last seen moving northwest at 10 kph, inching closer to the east of the country.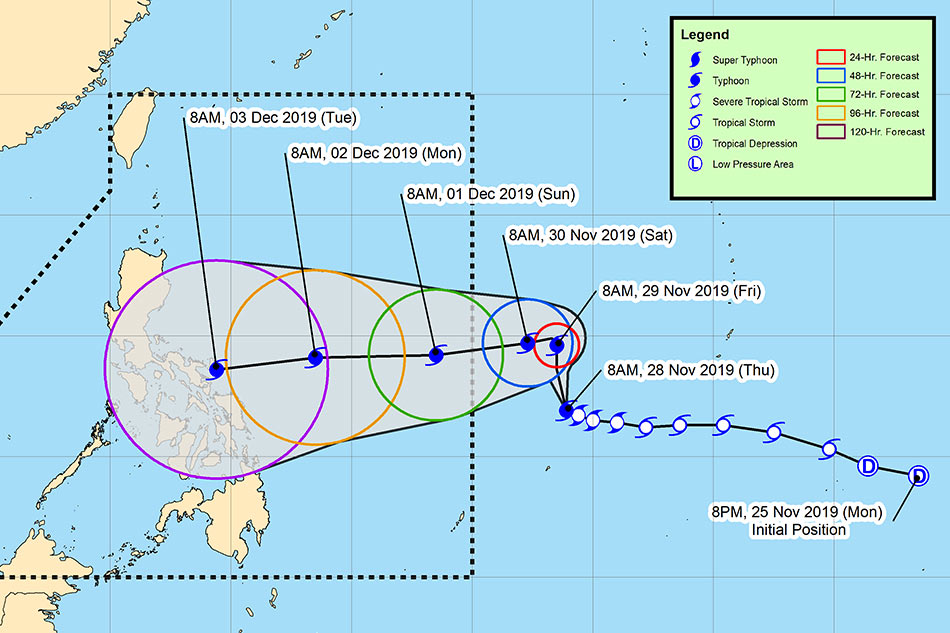 Once it enters PAR, Kammuri may affect the eastern portion of Bicol region. PAGASA said Tropical Cyclone Wind Signal no. 1 may be raised over the region on Sunday.
Aside from the Bicol region, continuous heavy rains may affect central Luzon, Metro Manila, Calabarzon, Mindoro, Marinduque, Romblon and Samar Island on Tuesday (Dec. 3) and Wednesday (Dec. 4) and may cause flooding or landslides in prone areas, NDRRMC said.
Frequent heavy rains are also expected over northern Luzon due to the typhoon's interaction with the tail-end of a cold front and can induce flooding or landslides while flooding may occur in low-lying areas, and landslide in mountainous areas in Cagayan Valley.
The NDRRMC said Magat Dam in Isabela may release water from its shed and cause flooding in certain areas depending on the amount of rainfall brought by Kammuri.
"Residents in the identified areas should monitor tension cracks, fractured rocks and sediments, sliding slope and active slides, and soil overburden which are common signs of impending landslides," NDRRMC said.
"Likewise, residents in low-lying areas or near riverbanks who experience prolonged rainfall should exercise caution and monitor the level of river water considering that heavy rainfall may cause riverbank erosion, shift of river flow direction, debris flows and artificial damming," it added.
The NDRRMC said the Department of Social Welfare and Development (DSWD) has prepared nearly 300,000 family food packs across the country, ready to be delivered to affected areas if needed.
"We cannot leave this storm to chance. Let us strengthen all preparedness efforts at the national, regional, and local government levels. We also advise affected residents to expect possible pre-emptive evacuations and take precautionary measures," NDRRMC executive director Ricardo Jalad said.
"Let us learn from our history of past typhoons and become more cooperative and prepared."